K3's (first!) producer of the month for April is: Jeff Schmidt, Alien Imaging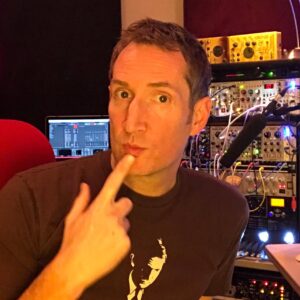 Over 20 years crafting the distinctive Audio Brand for some of the most respected stations in commercial radio –KFOG/KSAN San Francisco Creative Director Jeff Schmidt has Branded nearly every format in Radio. Proprietor of Jeff Schmidt Productions, Jeff designs full audio for sound rich podcasts: Dirty John –  Inside Psycho – Inside The Exorcist – Tides Of History
Jeff also provides "Stealth Audio Ninja" services for Apple Music's Beats 1 Radio and Sirius/XM Satellite Radio and owns/operates Alien Imaging Sound Design where his original Sound Design elements are in use at nearly 1000 Radio Stations and Production Houses all over the world.
Jeff's Exciting Audio work is in use by innovative Entertainment Organizations such as: Blizzard Entertainment, Sony Computer Entertainment of America, Harmonix, Ubisoft, Microsoft Game Studios, Pyramind Studios and Education San Francisco.
---
Getting to know Jeff…

Years you've been producing: 2​0​
Tell us about the first moment you knew you had the producer bug​:​ First Radio job as producer on an AM Radio Morning Talk show – the host was talking about some local controversy and I ​got an idea. So I ​ran into the production room and made a bit about it. I don't remember what it was – but the host heard it​,​ laughed and aired it immediately. After that everyone wanted me to produce stuff for them.​ ​
An underestimated producer tool:​ The Microphone. ​Need a sound? Crack the mic!
The longest it's ever taken you to produce a single sfx/bed: Months​. And then, minutes. ​
What do you wish you could tell your younger self?​ I could write a book filled with things I wish I could tell my younger self- but the first would be that you don't need the permission or approval of others to do what you want to do.
Best advice someone's given you:​ Notice the people and things that leave you feeling drained and those that leave you feeling energized – avoid the former – pursue the later.
Best compliment you'​v​e received as a producer:​ ​ I used to be horrible at accepting compliments. Someone pointed how that robs the person the pleasure of giving a compliment. So I now graciously accept and quickly forget them. But the kind of compliments I tend to appreciate most are when someone tells me they were inspired by something I did and then went out and made something great of their own because of it – which in turn further inspires me.
What's your dream gig?​ ​To not need a gig and just do cool shit.
Who/what inspires you?​ ​People that push past their own internal resistance and do what they really want to do.
What's the funniest thing that has happened to you recently?​ ​ OMG – only serious things have happened to me recently – this must be rectified immediately!
Do you believe in Bigfoot?​ ​Only when camping.
If you could be anywhere right now, where?​ Barcelona, Spain.​
A unicorn walks in the door holding a beer in one hand and a kitten in the other. What does his tshirt say?​ ​ "Can't We All Just Get A Bong?"
Jeff is available for: Sound Effect creation & design • Music Supervision & Underscore design • Original score composition • Audio Editing • Mixing and Mastering • Audio production consultation • Studio Engineering • Field and location recording • Audio repair & restoration • Voice-over & narration, Video Game Audio, Radio Promo & Imaging.
Reach Jeff here: jeff@alien-imaging.com